Welcome to Buena Vista Chic Hotel
Comfort With a View of Downtown San Jose
Guests of Buena Vista Chic Hotel love our easy accessibility to and from San Jose International Airport – just a short 10 kilometers (6 miles ride) via our complimentary shuttle. Once at the hotel, however, airport memories fade as a sense of tranquility sets in.

Nestled in a coffee plantation on a lush hilltop overlooking downtown San Jose, our hotel offers a secluded sanctuary of magnificently manicured gardens and grounds.
Charming architecture and cozy interiors decorated in modernist tropical style provide a warm, inviting refuge for business and leisure travelers. The personalized service from our friendly, engaging staff sets Buena Vista Chic Hotel as the ideal home away from home in the mountains above San Jose. Whether you're seeking a relaxing place to stay before or after your flight, or just want to experience the beauty and serenity of Costa Rica, we offer a unique alternative to the larger branded hotels.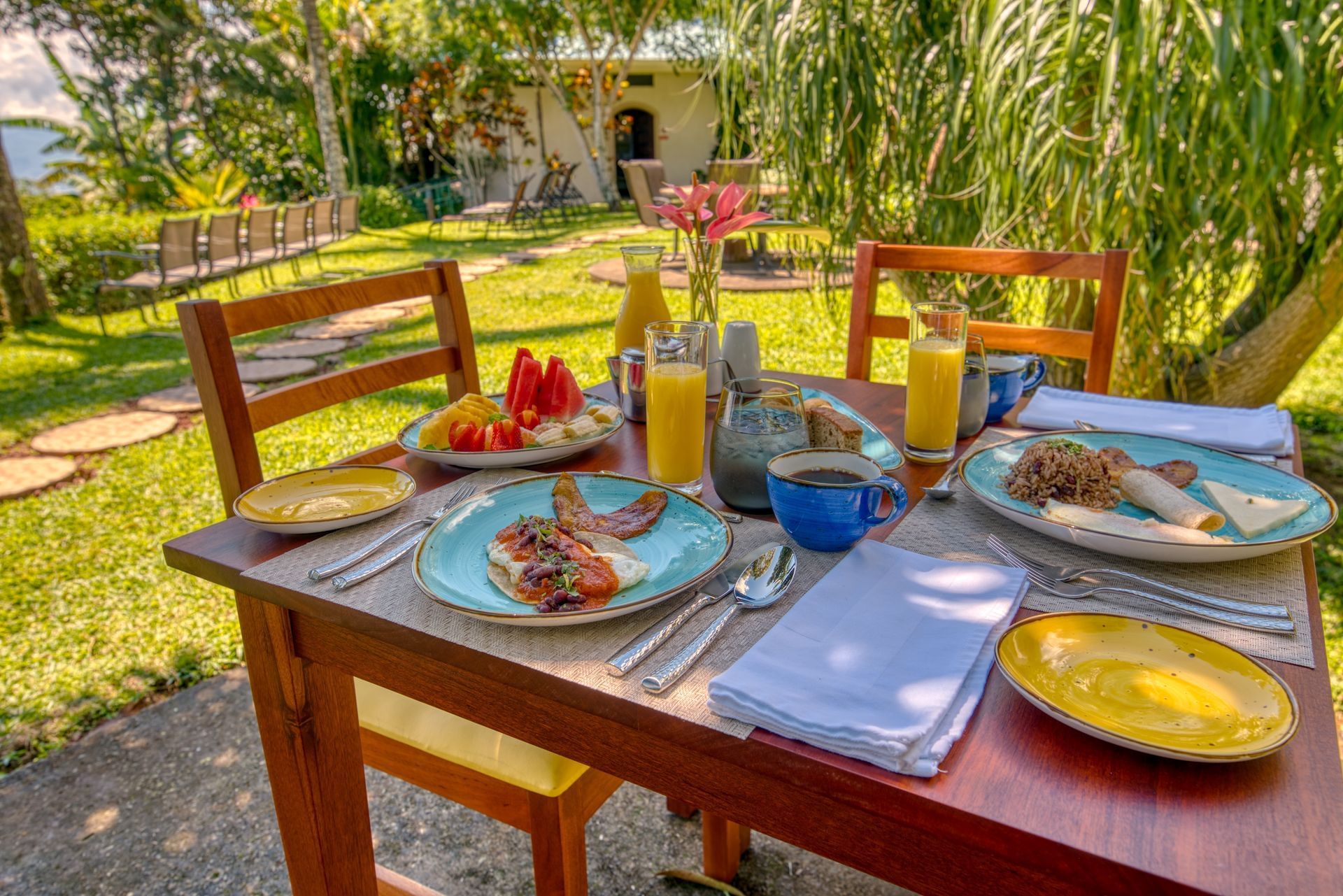 Guest Rooms
Our 30 guest rooms offer an intimate and relaxing setting, arranged in buildings and villas surrounded by lush flora and more than 100 species of exotic birds.
METAMORPHOSIS Restaurant & Bar
Whether dining indoors or alfresco on the patio and pool deck, our intimate restaurant offers contemporary international cuisine infused with subtle Costa Rican flair.
Tours & Excursions
Our central location just outside San Jose in Alajuela offers unmatched convenience to the best activities and adventures to be had in Costa Rica. Find out how we can help you plan the getaway of a lifetime.

Website Exclusive Offer
Enjoy Buena Vista Chic Hotel at the best rates! Get the best rate when booking your stay directly with us. Plus, all stays include free breakfast and free shuttle service to and from the airport.
Amazing place and even better staff. Andres is just the best to show you around, his friendship and kindness are outstanding. We were blessed to have met him. Best driver in the whole world!! We'll definitely come back to visit. Thank you for all the attentions.
Gran hotel bien ubicado en la carretera hacia el Volcán Poás (35 mins) y cerca de Alajuela (15 mins). Zona muy tranquila con vistas a la zona del Volcán, no escuchamos a los aviones del aeropuerto internacional, aunque sí el canto del gallo mañanero. Desayuno exquisito y el trato por parte del personal inmejorable.
The staff's hospitality is unmatched. Our flight left really early (4am) so they prepared coffee and breakfast to go. They went over and beyond for us. The view is espectacular! They have a nice trail in the back as well. The hotel overall is beautiful,private, safe, and clean. Definitely would stay again!
Absolument superbe et au calme. Personnel très sympathique et de bon service. Les repas sont délicieux.
Small hotel near the airport (20 minutes). Ideal to start or end your trip out of the city with an incredible view of the Central Valley. Friendly service and tasty food. Highly recommended.
Habitaciones muy confortables, camas bien grandes y cómodas, muy buen baño con ducha hermosa y caliente. Gran desayuno. Excelente restaurant. Linda pileta. Muy buena vista de la ciudad y de San José. Muy buena atención. Atención: es una excelente opción para pasar la primer o la última noche, dado que está a 20 minutos del Aeropuerto de San José (que está en Alajuela).