Tours and Transportation
When it comes to exploring, leave the driving to us!
To enhance your experience while staying at Buena Vista Chic Hotel, we have selected a range of experiences and tours we provide to the most popular tour destinations in Costa Rica.
Perfectly situated in the center of Costa Rica, our hotel is ideal for fast and convenient access to many of the country's most popular tourist destinations. For hotel guests only, we operate cars and seven-passenger vans with friendly, experienced drivers and guides. All tours are custom and private consisting of just you, your family or your traveling companions. The tours depart the hotel and return at your convenience and on your schedule.
Nothing could be simpler and more fun!

In addition, we offer a next-destination drop-off service. We can chauffeur you anywhere in Costa Rica taking a safe and scenic route to your next hotel or travel destination. If needed, we can also pick you up anywhere in the country and return you to Buena Vista Chic Hotel in Alajuela.
Buena Vista Chic Hotel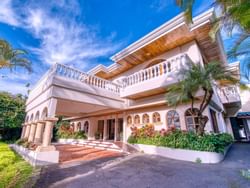 Nestled in a coffee plantation on a lush hilltop overlooking downtown San Jose, our hotel offers a secluded sanctuary on 2.5-acres of magnificently manicured gardens and grounds.